Braised Venison Osso Buco - a popular Italian winter warmer!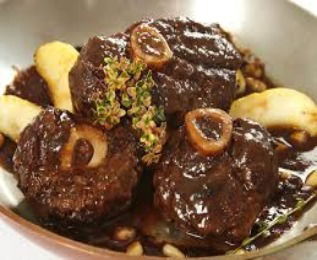 You will need:
8 to 10 pieces Hahndorf Venison Graded Osso Buco
salt & freshly ground black pepper
quality olive oil
2 brown onions - diced
2 carrots - diced
2 sticks celery - diced
400 grams of peeled tomatoes
4 Bay leaves
2 generous glasses of white wine
some flour
Pre-heat the oven 180C. Combine the diced carrots, onions & celery into a large oven tray place in the oven and cook for 5 or 6 minutes. Then add the wine, bay leaves & tomato to the oven tray and further cook for 10 minutes. While the oven is doing its thing, heat a sturdy frying pan with some olive oil to frying hot. Dust the Osso Buco pieces with some flour, then fry each piece in the hot oil each side to light brown. Transfer to the oven tray and season with salt & pepper to taste. Cover the tray with baking baking paper and top with alfoil and cook on for a further 2 hours at 200oC.
Can be serve with steamed seasonal vegetables, or simply piping hot polenta.
Buon appetito!