Here we've used quality Hahndorf Venison HAND CUT DICED for a tweak on Adrian Richardson's "MEAT" - page 42 Hungarian Goulash Soup served with chives & sour cream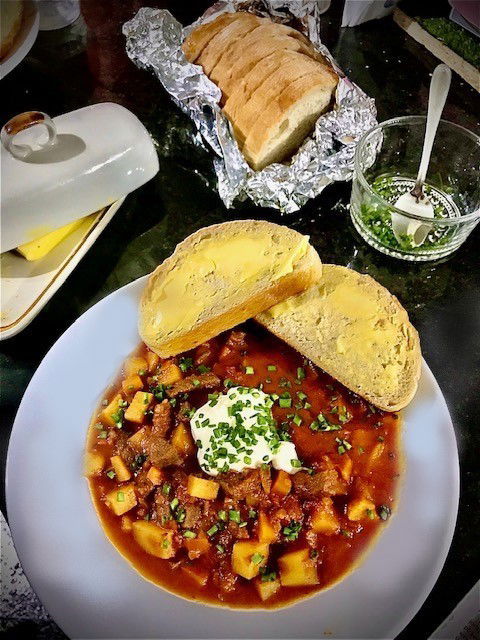 Don't stew it - soup it! Venison is a major component of the Hungarian diet. Use the oyster for this tweak on Adrian Richardson's Hungarian Goulash Soup, we've modified the cayenne component, left out the chilli & added carrot.
This recipe takes a while to prepare, but it's worth it & will comfortably serve 6 adults
You'll need:
1 kg of quality Hahndorf Hand Cut Diced Venison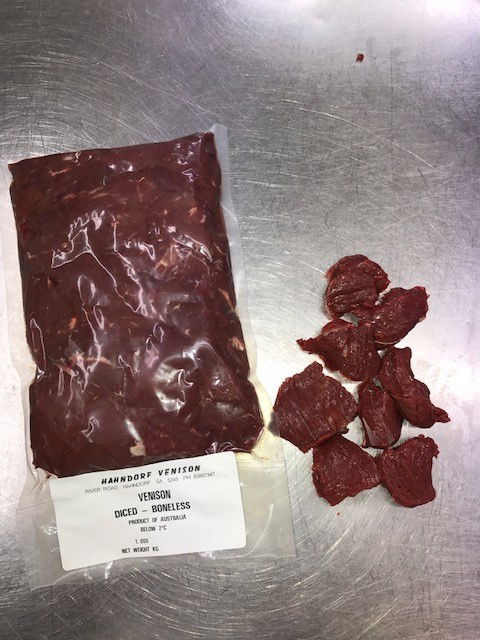 1 tablespoon caraway seeds
2 tablespoons sweet smoked paprika
1 tablespoon ground cumin
1/2 tablespoon Cayenne Pepper
1 teaspoon salt
1 teaspoon freshly ground black pepper
1/4 cup olive oil (maybe more)
3 onions finely diced
4 red peppers
1 litre beef stock
1 cup white wine
1/4 cup sherry vinegar
2 cups tomato passata
250 gm tomatoes
2 bay leaves
4 sprigs thyme
3 large potatoes peeled & finely diced
2 large carrots peeled & finely diced
Some Greek Yogurt & fresh chopped chives (to serve with)
Finely dice the Venison oyster to about 1 cm cubes - remove & discard any residual sinew. Into a large mixing bowl with the spices, salt & pepper. Toss well to evenly coat the Venison.
In a sturdy saucepan, heat half the olive oil to sizzling. Brown the Venison - in batches to maintain the saucepan heat. When done - transfer to a plate and put aside.
Halve the peppers, discard the pith and seeds. Rub well with olive oil and grill, with skin side up, to black and charred. Remove, cover and let cool. Remove and discard the skin . Chop and coarsely puree in a processor. Add the remaining olive oil, onions, & pureed peppers into the saucepan. Saute 'till the onion softens. Return the Venison to the saucepan and continue saute for a further 2 or 3 minutes. Stir in the stock, wine & sherry. In goes the tomato passata, tomatoes & herbs. Bring to the boil then reduce heat. Add potatoes and carrots. Gently simmer for about an hour uncovered, stir occasionally and top up with more stock (or water) if required. Adjust seasonings to taste.
Serve in a soup bowl, topped with generous dollop of Greek Yogurt and fresh chopped chives. Fresh baked crusty bread with rich butter adds the final touch.