- Braided Venison Fillet -
a simple but most elegant way to serve!
No marinades needed
Venison prep time <5 minutes, pan time of around 2 minutes max each side.
Unpack the Hahndorf Venison Tenderloins, pat dry and put aside for 5 minutes or so to allow to breathe, the natural deep red bloom will return.
It is desirable to carefully remove any remaining silver-skin at this stage
As the tenderloins begin to reach room temperature, slice the the Tenderloin
from from just below the head to the tail, making sure to finish with 3 evenly sliced ribbons still attached as one at the head
3 strand braid the Tenderloin and apply a very light coating of quality Olive Oil
Apply cracked pepper to taste and add a couple of fresh sprigs of thyme
Some oil into a hot pan - take care - not too hot, don't burn the oil
Carefully place the braided Tenderloins into the pan, sear and finish to rare
Remove from the heat, cover and set aside to rest for 5 minutes
Plate the accompaniments, followed by the portioned Tenderloins, and serve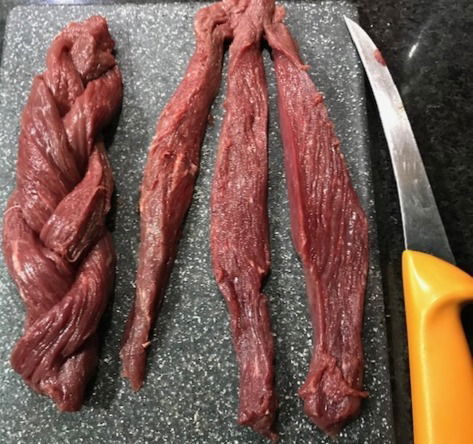 Any doubts or need more information? Call John 0417 887 658.